So, you want to play a musical instrument but have never had lessons or you don't think you are musically inclined? Well, let The Melody Lap Harp make it possible for you to play beautiful music by simply sliding a song sheet under the strings and plucking the string above each printed note. Within minutes you will be thrilled to learn that you sound like you have taken music lessons for years. It's that easy! Don't let lack of musical ability or lessons keep you from making beautiful music. The Melody Harp is truly one of the world's easiest and fun musical instruments to play.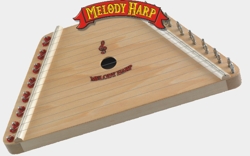 More than a toy, the Melody Harp instrument can be a stepping stone for even children for developing a love for music. In addition to the song cards with many known and loved tunes, create your own music cards from existing tunes in other books, or even from you own imagination! The ease of play, combined with its renowned quality construction, is what makes the Melody Lap Harp a favourite instrument. As with the Music Maker, you will quickly understand that the quality hardwood used in producing them sets them apart from other brands which are often of inferior quality. Enjoy the exceptional tonal qualities of the Melody Harp. A lap harp is an instrument that everyone not only will have fun playing but will be proud to own and play for personal enjoyment and for the entertainment of others.
YOU can play beautiful music in just minutes,
even if you have no previous musical experience!
The Melody Lap Harp:
1. is the world's easiest instrument to play!
2. is made of real hardwood
3. comes with 12 song sheets with words
4. comes with a pick and tuning wrench
5. has a lifetime string replacement guarantee
6. many different song packets are available.

Songs Included are:

• Take Me Out to the Ball Game
• My Bonnie Lies Over the Ocean
• Amazing Grace
• Michael Row Your Boat Ashore
• Aura Lee
• Away in the Manger
• London Bridge is Falling Down
• When the Saints Go Marching In
• Red River Valley
• We Wish You a Merry Christmas
• On Top of Spaghetti
• Old Smokey
The Melody Lap Harp comes with a tuning wrench, pick, extra string, lifetime string replacement card, and twelve songs and comes pre-tuned.
Lifetime String Guarantee! Should a string ever break, no matter what the reason, simply return the guarantee coupon and a new string will be sent absolutely free, along with another coupon should one break again.
Heavy-duty String Posts! The extra strong string posts on the Melody Lap Harp will not bend under string pressure, making it easier to tune and stay in tune.
Variety of Songs to Play! To enhance your enjoyment of owning a Melody Harp select additional music packets from our wonderful collection. Music is printed on durable, easy-to-keep-clean glossy catalogue cover stock.
Music and Words Together! Don't forget that with the Melody Harp song cards you also get the lyrics printed right on the cards so that you can sing along as you strum out the tune!
Simple Connect-the-Dot Music! It's so easy to play, you don't have to read music. Our special "dot system" is easy for any age to understand. Connect the dots with your pick and voila, you are playing your favourite music!
Unique "Tab" System! With our unique "Tab" system, the music sheets are held in place allowing the player to position the instrument on their laps without the music falling off.
The Melody Harp music sheets are compatible with the Music Maker. You simply need to re-tune the two F strings.
The Melody Harp has 15 strings.
It is tuned to the Key of C, meaning that there are no sharps or flats.
The notes are G, F, E, D, C, B, A, G, F, E, D, C, B, A, G

This 13" x 8" x 2" (33cm X 20cm X 5cm) trapezoid shaped instrument is made of quality hardwood by Trophy Music. This convenient size makes it easy to carry with you wherever you go.
Age Recommendations:
Canada: Age 4 to 100+.
USA: Age 13 to 100+ (due to government regulations on items for children)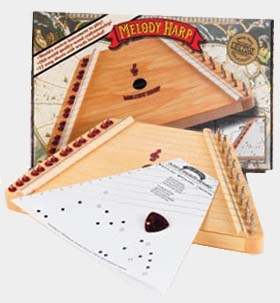 Melody Harp
The Melody Lap Harp comes with:
• a tuning wrench
• pick
• extra string
• lifetime string replacement card
• and twelve songs.
While it comes pre-tuned, occasionally a string will go out of tune during transportation.
Melody Harp Music Packets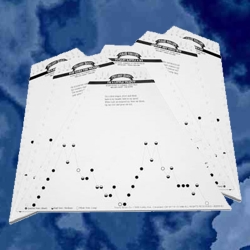 Each song sheet packet includes twelve songs and lyrics (where applicable). None of these songs are included in the songs that come with the Melody Lap Harp. They do not have any songs with a rock or rap beat.
Printed on durable and easy-to-keep-clean glossy catalogue cover stock.
These packets are designed for use with the Melody Harp. They are compatible with the Music Maker Lap Harp if you re-tune the two F strings. They are NOT compatible with the First Act Lap Harps sold at Walmart.

All Packets areeach
Melody Harp Children's Songs #1

• A Hunting We Will Go
• A Tisket, A Tasket
• Are You Sleeping?
• Baa, Baa, Black Sheep
• Froggie Went A Courtin'
• Hickory Dickory Dock
• I'm a Little Teapot
• Mary Had a Little Lamb
• Polly Wolly Doodle
• Pop Goes the Weasel
• The Old Gray Mare
• Where O Where Has My Little Dog Gone



---




Melody Harp Children's Songs #2

• Camptown Races
• Dinah
• Eensy Weensy Spider
• It's Raining, It's Pouring
• Jack and Jill Went Up the Hill
• Mary, Mary Quite Contrary
• Here We Go Round the Mulberry Bush
• Row, Row, Row Your Boat
• Skip to My Lou
• Sweet Betsy From Pike
• Ten Little Indians
• Three Blind Mice



---




Melody Harp Christmas Songs #1

• Angels We Have Heard on High
• Deck the Halls
• Go Tell it on the Mountain
• God Rest Ye Merry Gentlemen
• Hark the Herald Angels Sing
• Jingle Bells
• Jolly Old St. Nicholas
• Joy to the World
• O Christmas Tree
• O Come All Ye Faithful
• Silent Night
• The First Noel



---




Melody Harp Christmas Songs #2

• A Babe is Born in Bethlehem
• Good King Wenceslas
• Here We Come a Caroling
• The Holly and the Ivy
• It Came Upon the Midnight Clear
• O Come O Come Emmanuel
• O Holy Night
• Santa Clause is Coming to Town
• Up On the House Top
• We Three Kings
• What Child is This
• I Saw Three Ships



---




Melody Harp Folk Songs #1

• Blue Tail Fly
• Buffalo Gals
• Clementine
• Cripple Creek
• Down in the Valley
• Drink to Me Only With Thine Eyes
• I've Been Working on the Railroad
• Little Brown Jug
• Meet Me in St. Louis
• While Strolling Through the Park
• Turkey in the Straw
• You are My Sunshine



---




Melody Harp Folk Songs #2

-

Currently Out of Stock

• Auld Lang Syne
• Blow the Man Down
• Goodnight Ladies
• Happy Days are Here Again
• Shoo Fly
• Home, Home on the Range
• I Wish I were Single Again
• She'll Be Coming Round the Mountain
• Don't Bother Me
• Shenandoah
• Swing Low Sweet Chariot
• The Old Gang of Mine
• When the Work is All Done
A Melody Lap Harp lets everyone, regardless of musical
experience, play beautiful music.
Get yours and start making music!